PRODUCT
Omega Shackle Bolt & Pin Hot Dip Galvanized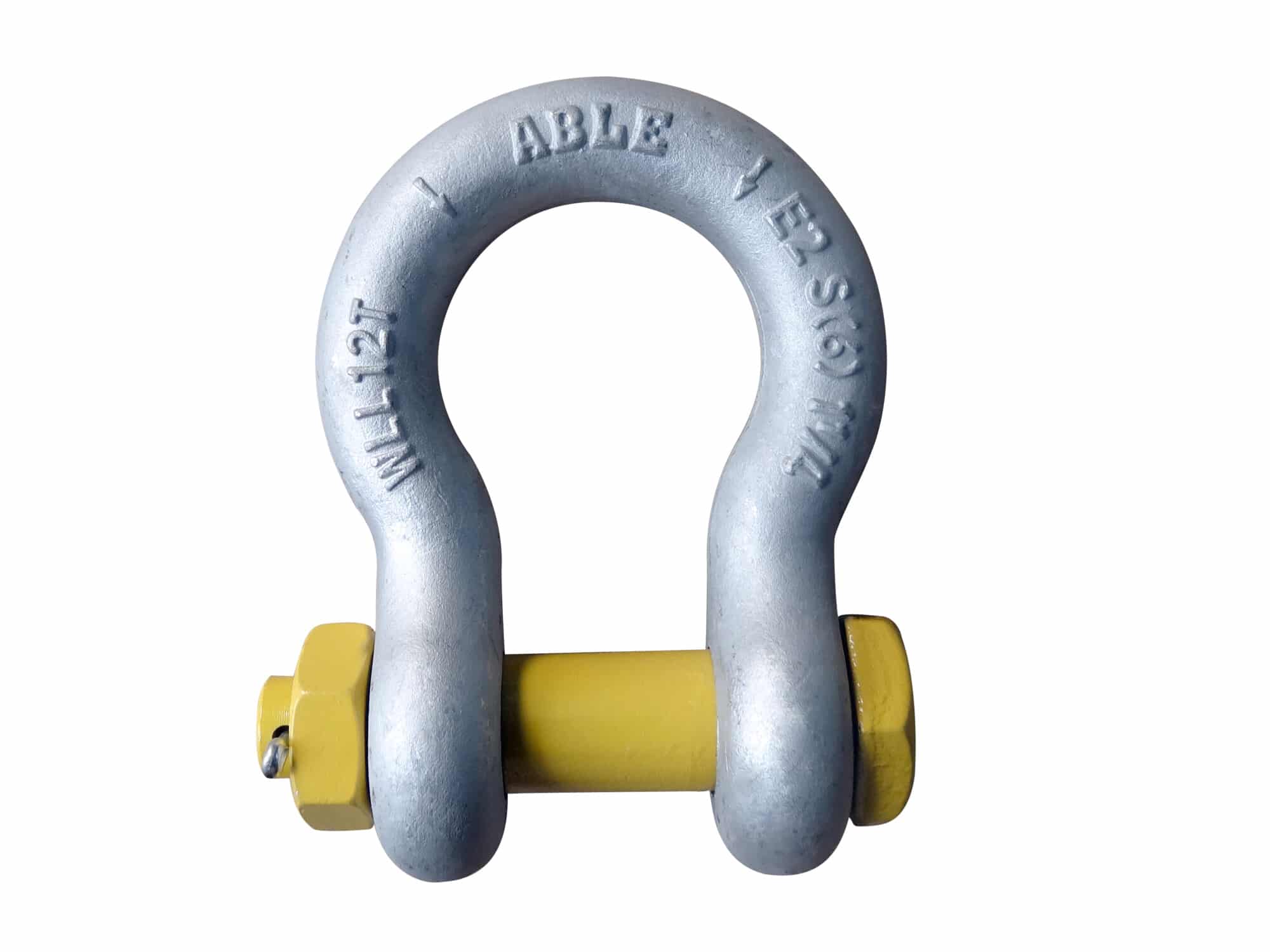 Omega Shackle Bolt & Pin Hot Dip Galvanized
---
Omega Shackle Bolt & Pin Hot Dip Galvanized
> Bolt Type Anchor shackles with thin head bolt – nut with cotter pin. Meets the performance requirements of Federal Specifications
RR-C-271D TypeIVA Grade A Class 3, except for those provisions required of the continue-ractor.
> Working Load Limit permanently shown on every shackle. Capacities 2 thru 150 metric tons.
> Forged Quenched and Tempered, with alloy pins.
> Hot Dip galvanized body. Yellow Pin.
> Fatigue rated.
> ABLE Products meet or exceed all the requirements of ASME B30.26 including identification, ductility design factor,
proof load and temperature requirements. Importantly, ABLE products meet other critical performance requirements including
fatigue life, impact properties and material traceability, not addressed by ASME B20.26.
> Shackles 55 metric tons and smaller can be furnished proof tested with certificates to designated standards, such as ABS,
DNV, Lloyds, or other certification.
Forged Bolt Bow Shackle Type: SBB
Product
Code
Nominal
Size
(in.)
WLL
6:1
Ton
Weight
Kg
Dimensions (mm)
Tolerance
+/-
H
ɸ3
C
ɸ1
E
ɸ2
L
G
H1
C
H
SBB 006
1/4
1/2
0.05
13.00
8.00
29.00
6.80
20.00
17.50
39.80
33.60
42.50
3.30
1.50
SBB 008
5/16
3/4
0.10
13.50
9.50
31.00
8.00
21.50
21.00
43.75
37.50
48.00
3.30
1.50
SBB 009
3/8
1
0.15
17.00
11.20
36.50
10.00
26.20
25.00
52.10
46.20
57.00
3.30
1.50
SBB 011
7/16
1.1/2
0.23
18.50
12.70
42.90
11.30
29.50
27.00
60.55
52.10
64.50
3.30
1.50
SBB 013
1/2
2
0.36
20.60
15.80
47.75
12.70
33.30
31.00
68.35
58.70
74.50
3.30
1.50
SBB 016
5/8
3.1/4
0.76
27.00
19.00
60.00
16.00
43.00
40.00
85.50
75.00
93.00
6.35
1.50
SBB 019
3/4
4.3/4
1.23
32.00
22.00
71.50
19.00
51.00
48.00
101.50
89.00
107.00
6.35
1.50
SBB 022
7/8
6.1/2
1.79
37.00
25.00
84.50
22.00
58.00
54.00
119.00
102.00
121.00
6.35
1.50
SBB 025
1
8.1/2
2.57
43.50
28.00
96.25
26.50
68.50
60.00
136.75
121.50
137.00
6.35
1.50
SBB 028
1.1/8
9.1/2
3.75
48.00
32.00
109.00
29.00
75.00
68.00
154.00
133.00
145.00
6.35
1.50
SBB 032
1.1/4
12
5.32
53.00
35.00
120.50
32.00
84.00
76.00
170.00
148.00
167.00
6.35
1.50
SBB 035
1.3/8
13.1/2
7.18
59.00
38.00
134.00
35.00
94.00
84.00
188.00
164.00
185.00
6.35
3.30
SBB 038
1.1/2
17
9.44
62.00
42.00
148.50
38.00
99.00
92.00
207.50
175.00
198.00
6.35
3.30
SBB 044
1.3/4
25
15.39
75.00
50.00
178.00
45.00
128.00
106.00
248.00
218.00
227.00
6.35
3.30
SBB 050
2
35
23.73
84
56.00
197.00
52.00
148.00
122.00
277.00
252.00
250.00
6.35
3.30
SBB 064
2.1/2
55
44.00
107
71.00
269.50
66.00
186.00
145.00
368.00
318.00
299.00
6.35
3.30
SBB 077
3
85
76.00
127
80.00
330.50
76.00
200.00
165.00
587.50
365.00
92.00
6.35
3.30